How to Ride
Getting on the Train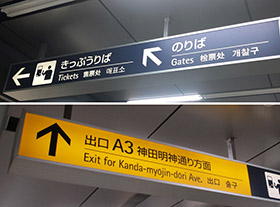 All TX station displays are color coded: navy blue for signs leading to platforms, yellow for signs leading to exits.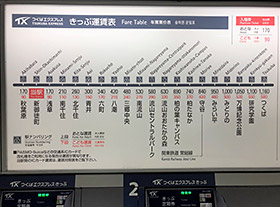 Check the fare to your destination on the table above the ticket vending machines. All TX stations have a corresponding station number.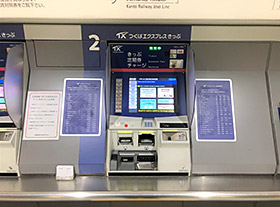 1.

Buy your ticket at a ticket vending machine.

2.

Check your fare, and then insert your money.

3.

Press the button for the fare to your destination.

4.

Ticket vending machines also have buttons for buying multiple tickets and child fare tickets.
*

A buzzer will sound if you forget to take your ticket.

*

All ticket vending machines have a language selection button.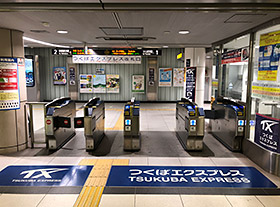 After buying your ticket, proceed to the platform via the ticket gates. Insert your ticket. Do not forget to pick it up at the other end.
If you have a Pasmo or Suica card, simply hold it against the smart card reader on the ticket gate.
If a ticket gate does not open after you insert your ticket, ask the station staff for help.
Do not bend or tear your ticket.
Hold on to your ticket until you exit the station at your destination. If you lose your ticket, you will be charged again.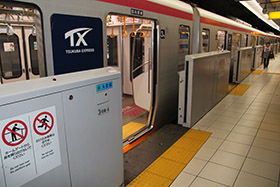 All TX stations are fitted with automated platform gates to ensure the safety of passengers for accidental falls onto the tracks. Each time a train arrives and departs, the gates open and close simultaneously with the train doors. Please do not lean against the gates as a train pulls in, or lean over the edge of the gates, as it is dangerous.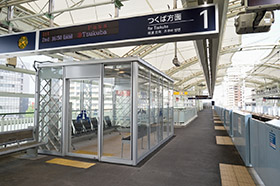 It offers four types of service: Rapid, Commuter Rapid, Semi-Rapid, and Local. Each stops at a different set of stations. Make sure to board the train that stops at your destination.
Rapid connects Akihabara and Tsukuba in as little as 45 minutes, and makes seven stops in between. Semi-Rapid makes the trip in about 52 minutes, with 14 stops in between. Local takes about 57 minutes and stops at every station. The Commuter Rapid service operates only during morning and evening rush hours. It makes 11 stops in between Akihabara(Tokyo) and Tsukuba(Ibaraki) in about 49 minutes.