How to Ride
Manners and Rules
The following are some general manners and rules to follow when traveling by train in Japan.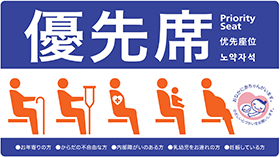 Each car has priority seats for elderly, disabled, or pregnant passengers, or passengers accompanying infants. When seated in a priority seat, please give up your seat to these passengers in need.
Thank you for your cooperation.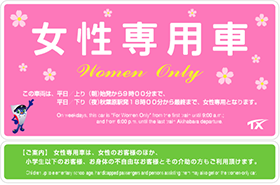 Many railway operators in Tokyo adopt women-only cars. TX follows this example, and designates car no. 1 (toward Tsukuba) as women-only.
In addition to women, the car is available for elementary school students and younger children, and passengers with disabilities and their caregivers.
Look for the identifying pink sticker.
Time
Direction
Applicable
stations
Car number
Weekdays
(morning)
From the first train until 9:00 a.m.
For Akihabara
All stations
The first car going toward Tsukuba Station (Car No.1)
Weekdays
(evening)
From the train leaving Akihabara at 18:00 to the last train.
For Tsukuba

Please wait for your train in two neat lines.
When your train arrives, first let passengers off, and then board.

Many train stations in Japan have banned trash bins as an anti-terrorism measure. Please carry any trash home with you.

Smoking is prohibited on trains and at train stations.
Please refrain from talking on the phone while on the train.
Turn off your mobile phone near priority seats when the car is crowded.