Route map & Station information
How to Ride
Route map & Station information
TX comprises 20 stations between Akihabara (Tokyo) and Tsukuba (Ibaraki). It offers four types of service: Rapid, Commuter Rapid, Semi-Rapid, and Local. Rapid connects the terminals in as little as 45 minutes, and makes seven stops in between. Semi-Rapid makes the trip in about 52 minutes, with 14 stops in between. Local takes about 57 minutes and stops at every station. The Commuter Rapid service operates only during morning and evening rush hours. It makes 11 stops in between Akihabara(Tokyo) and Tsukuba(Ibaraki) in about 49 minutes.
JR Yamanote Line
JR Keihin-Tohoku Line
JR Sobu Line
Tokyo Metro Hibiya Line
Toei Shinjuku Line(Iwamotocho Sta.)
JR Joban Line
Tokyo Metro Hibiya Line
JR Joban Line
TOBU SKYTREE Line[Isesaki Line]
Tokyo Metro Hibiya Line
Tokyo Metro Chiyoda Line
TX12

Nagareyama-ōtakanomori
TOBU URBANPARK Line[Noda Line]
*

Travel times are standard for daytime trains departing Akihabara.

*

Travel times may vary according to overtake and stop schedules.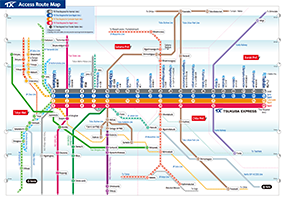 Click here for a map of major railway lines in the Greater Tokyo Area.